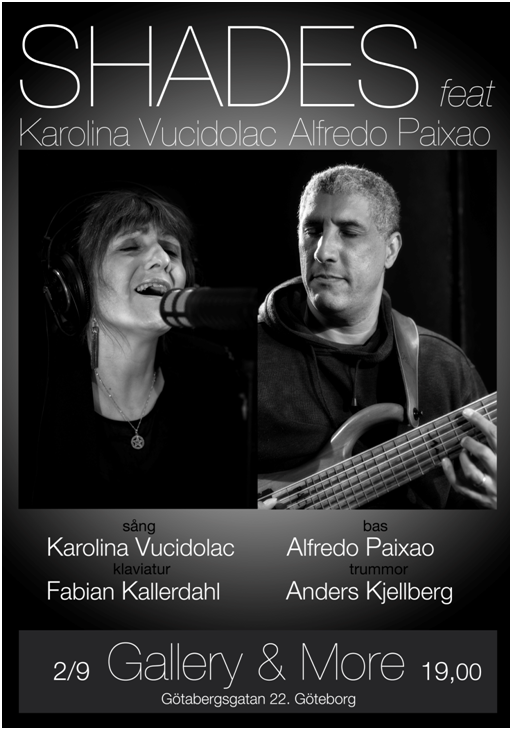 KAROLINA VUCIDOLAC
Born in Skopje (Macedonia), Karolina Vucidolac relocated to Sweden with her parents at a very young age. Although initially sport was dominating Karolina's life (being a natural in basketball, she was playing at the highest level in Sweden already at an age of 14), inevitably, it was music that took the reign of her professional life, and became her vocation.
Already a professional vocalist at the age of 20, she was performing with various bands and settings, acquiring the width as a musician, to finally finding her call in Brazilian Music. It was during this period that Karolina toured in a number of different countries such as Greenland, France, Spain, Finland, Greece and Japan, just to mention a few. 'Love at the first sight' is what she says when speaking of the time when Brazilian music was introduced to her. Brazilian Jazz inspired her to form various bands, and start musical projects, performing at festivals and Clubs across the country, promoting this genre of music together with prominent Jazz and Latin Musicians such as Hector Bingert, Daniel Turano, Peter Almqvist, Raymond Karlsson and soon a rewarding and intense cooperation was on its way.
In 1992 Karolina was accepted at 'Gothenburg Music Conservatory 'ARTISTEN' and conducted music studies at their 'Individual Music Program' (Individuellamusikerprogrammet), with focus on Brazilian Vocal and graduated in 1998.
Right after her graduation, she met one of Brazil´s most respected guitarists and music arrangers, Nelson Faria, who had a close musical cooperation with Joao Bosco (International representant for Brazilian music).
Being impressed by Karolinas voice and her interpretation of Brazilian Jazz and Bossa Nova, and in particular her way of singing in Portuguese, Nelson started a rewarding cooperation which in 2002 led to Nelson inviting Karolina to Rio de Janeiro for participating recording a solo album together with other renown Brazilian artists such as Toninho Horta and Paulo Mora
In 2004 Karolina further developed her cooperation with other Brazilian musicians and was soon performing with one of the most prominent Brazilian bands called 'Nosso Trio' (Nelson Faria -guitar, Ney Conceisao - Double base and Kiko Freitas - Drums). 'Nosso Trio' is the rythm section behind Joao Boscos. Nosso Trio is without doubt, the most prominent band within Brazilian jazz music, having played with giants of Brazilian musicians such as Milton Nascimento, Edu Lobo, Chico Buarque, Gal Costa and more.
Karolina's debut album 'Brasil-Meu Pais Musical" (Imogena) with 'Nosso Trio' and other participating musicians such as Anders Hagberg (saxophone, flute) och Daniel Turano (piano) was released in 2005. Since the début of "Brasil-Meu Pais Musical" Karolina Vucidolac and Nosso trio have had four celebrated and praised tours across Sweden at Jazz clubs and Concert Halls but Karolina and Nosso trio also touerd in Brazil.
As late as February 2007, Karolina Vucidolac and 'Nosso Trio' toured in Sweden and performed at Gothenburg Consert Hall (Konserthuset i Göteborg) and Festijazz in Västerås among other playses.
Another tour to Brazil by the end of March 2007, is scheduled in which Karolina will appear with 'Nosso Trio'.
In september 2007 Karolina Vucidolac and Nosso trio will make a new tour in Scandinavia. Sambadóuro is a new constellation with greate musicians (David Törnebäck, Chris Montgomery,Magnus Bergström) from Gothenburg that plays bossa nova ans samba in a jazzy way.
Today, Karolina Vucidolac is regarded as one of the best performers, representing the Brazilian jazz Music in Sweden.
During the course of the past years, Karolina Vucidolac has been awarded a number of different prizes and awards as well as scholarships from Cultural Department 'Konstnärsnämnden', 'The Margot and Tobis Foundation' (Margot ochTobis stiftelse), Ale Municipality (Ale Kommun), 'Axelson- Johnsons Foundation' (Axelson- Johnsons stiftlelsefond) to mention a few.
Musicians and bands Karolina has been playing with during the years: Hector Bingert, Daniel Turano, Peter Almqvist, Raymond Karlsson, Bohuslän big band, Jovi Joviniano, Tomas Olsson, David Sundby, Ulf Wakenius, Tommy Kotter, Nosso trio, Finn Björnulfson, David Törnebäck, Anders Hagberg, Chris Montgomery, Magnus Bergström among others...